Fabric > Artisian Batiks Roundabout by Robert Kaufman
These one-of-a-kind Artisan Batiks are produced on the island of Java in Indonesia by skilled dye masters. Lunn Studios is working directly with the dyers in Java in developing new looks and different styles of fabrics in keeping with their ongoing commitment to providing what is missing in the fabric market.
Each yard of these sumptuous fabrics is unique. The fabric is hand-stamped and then hand-painted multiple times, with many different pairs of hands working on every yard. Most of the work is done outside, so the weather greatly influences the results. Due to this specialized hand-process, there is a consistency to color and pattern, while maintaining subtle color variations that are so important to this traditional technique.
| | |
| --- | --- |
| Showing 1 - 13 of 13 results | |
Roundabout GREY

AMD-17774-12 GREY


Roundabout-Brown
Roundabout-Charcoal A
Roundabout-Charcoal B
Roundabout-Evening A
Roundabout-Expresso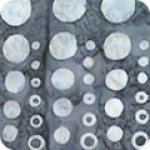 Roundabout-Grey
Roundabout-Grey A
Roundabout-Natural
Roundabout-Rain
Roundabout-Rain A
Roundabout-Rain B
Out of Stock
Roundabout-Straw